Preschool + Children's Ministry
The Preschool and Children's Ministry at FBC Altus exists to glorify God and further His kingdom on earth. We do this through partnering with parents to build a strong Gospel-centered Bible foundation that will continue throughout their children's lives. Children will learn to know, love, and serve Jesus through Sunday School, Mission classes, and other ministry activities.

For more information, contact the Preschool/Children's Office at (580) 482-1777.
Sunday School
Preschool & Children's Sunday School is offered at 9:30am for birth through 6th grade.
Sunday School is the foundation of our Children's Ministry. Children are taught age-appropriate lessons and activities that guide them as they grow in knowledge of God's word. Our goal is for every child to hear about Jesus and have the opportunity to know Him personally as led by the spirit, learn Bible skills, and learn to serve others.
We are still going through new curriculum of The Gospel Project for Kids At Home which helps you provide families at home with:
Family worship experiences

Prayer prompts

Activity ideas
Unit 25: The Warnings of Jesus
09/03 Session 1: People Welcomed Jesus as King
09/10 Session 2: Leaders Wanted to Trick Jesus
09/17 Session 3: Jesus Warned about Not Loving
09/24 Session 4: Jesus Warned about Not Acting
10/01 Session 5: Jesus Is Our Perfect Prophet
Mystery Box & Extended Teaching Care
Children are encouraged and welcomed to attend the Worship Service. Brother Jeff also has a time when he invites the children to the altar for "The Mystery Box" for a fun time as he tells a brief 'kids' message derived from an object brought by one of the children.
We do offer childcare, Extended Teaching Care, during the Worship Service for babies through three-year-old classrooms. Children are cared for by committed, and loving congregation members who volunteer on a rotating basis. All volunteers are pre-screened before serving in ETC.
Wednesday Evenings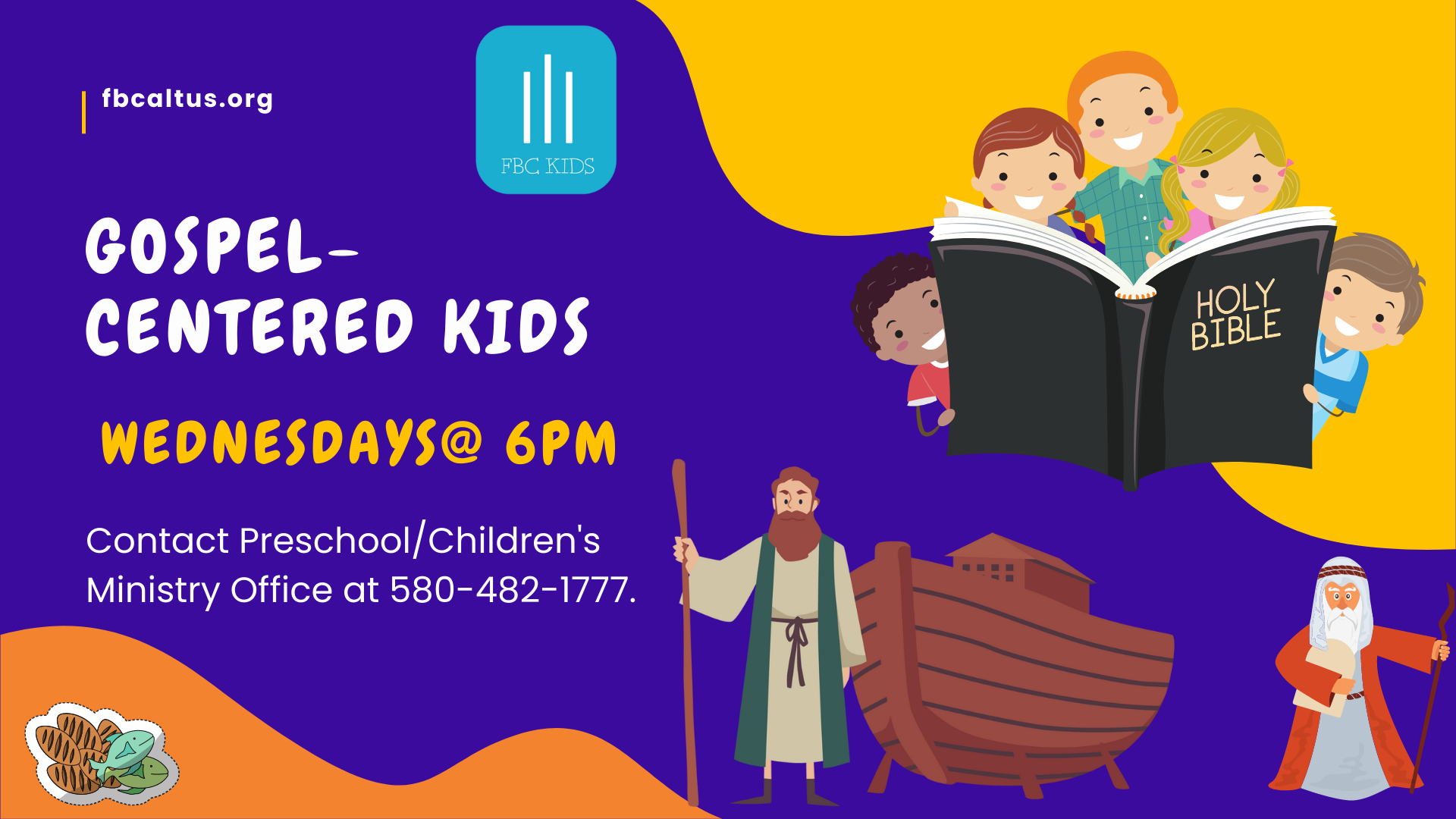 Gospel- Centered Kids meets on Wednesdays from 6:00-7:00pm in Room 113. Join us as we strive to build a strong Gospel-centered Bible foundation for children of all ages. Sunday school lessons and Bible skills will be reaffirmed each week through engaging activities, Bible stories, and games.