Preschool + Children's Ministry
The Preschool and Children's Ministry at FBC Altus exists to glorify God and further His kingdom on earth. We do this through partnering with parents to build a strong Gospel-centered Bible foundation that will continue throughout their children's lives. Children will learn to know, love, and serve Jesus through Sunday School, Mission classes, and other ministry activities.

For more information, contact the Preschool/Children's Office at (580) 482-1777.
Sunday School
Preschool & Children's Sunday School is offered at 9:30am for birth through 6th grade.
Sunday School is the foundation of our Children's Ministry. Children are taught age-appropriate lessons and activities that guide them as they grow in knowledge of God's word. Our goal is for every child to hear about Jesus and have the opportunity to know Him personally as led by the spirit, learn Bible skills, and learn to serve others.
We are still going through new curriculum of The Gospel Project for Kids At Home which helps you provide families at home with:
Family worship experiences

Prayer prompts

Activity ideas
Access The Gospel Project at Home here.
** Note: The webpage for the Gospel Project has moved. You can still access the resource via the access link above. Please click "View the new experience". The set-up is a bit different. For Session 2 the heading will be 20.0
Unit 21: Early Responses to Jesus
05/07 Session 1: People Rejected Jesus (21.1)
05/14 Session 2: People Were Amazed by Jesus (21.2)
05/21 Session 3: Peter Worshiped Jesus (21.3)
05/28 Session 4: We Are Saved by Faith in Jesus (21.4)
Mystery Box & Extended Teaching Care
Children are encouraged and welcomed to attend the Worship Service. Brother Jeff also has a time when he invites the children to the altar for "The Mystery Box" for a fun time as he tells a brief 'kids' message derived from an object brought by one of the children.
We do offer childcare, Extended Teaching Care, during the Worship Service for babies through three-year-old classrooms. Children are cared for by committed, and loving congregation members who volunteer on a rotating basis. All volunteers are pre-screened before serving in ETC.
Wednesday Evenings
Gospel- Centered Kids meets on Wednesdays from 6:00-7:00pm in Room 113. Join us as we strive to build a strong Gospel-centered Bible foundation for children of all ages. Sunday school lessons and Bible skills will be reaffirmed each week through engaging activities, Bible stories, and games.
VBS 2023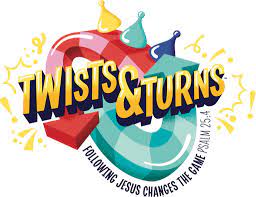 Following Jesus Changes Everything:
Spin the spinner, beat the clock, skip ahead, level up, and play to win! You'll need to bring your A-Game for this VBS! Twists & Turns is a fantastical celebration of games of all kinds. From classic tabletop games to strategy games to video games and more. Kids will play their way through VBS in fun locations! But more importantly, they'll see Jeus through the eyes of one of His closet friends and discover that trusting Jesus as Savior and following Him changes the game entirely!
For children who have completed Pre-K through 6th grade by the end of May 2023. (NO EXCEPTIONS)
On-line registration will begin Monday, May 1, 2023.
VBS dates is June 26th-29th from 9am to noon.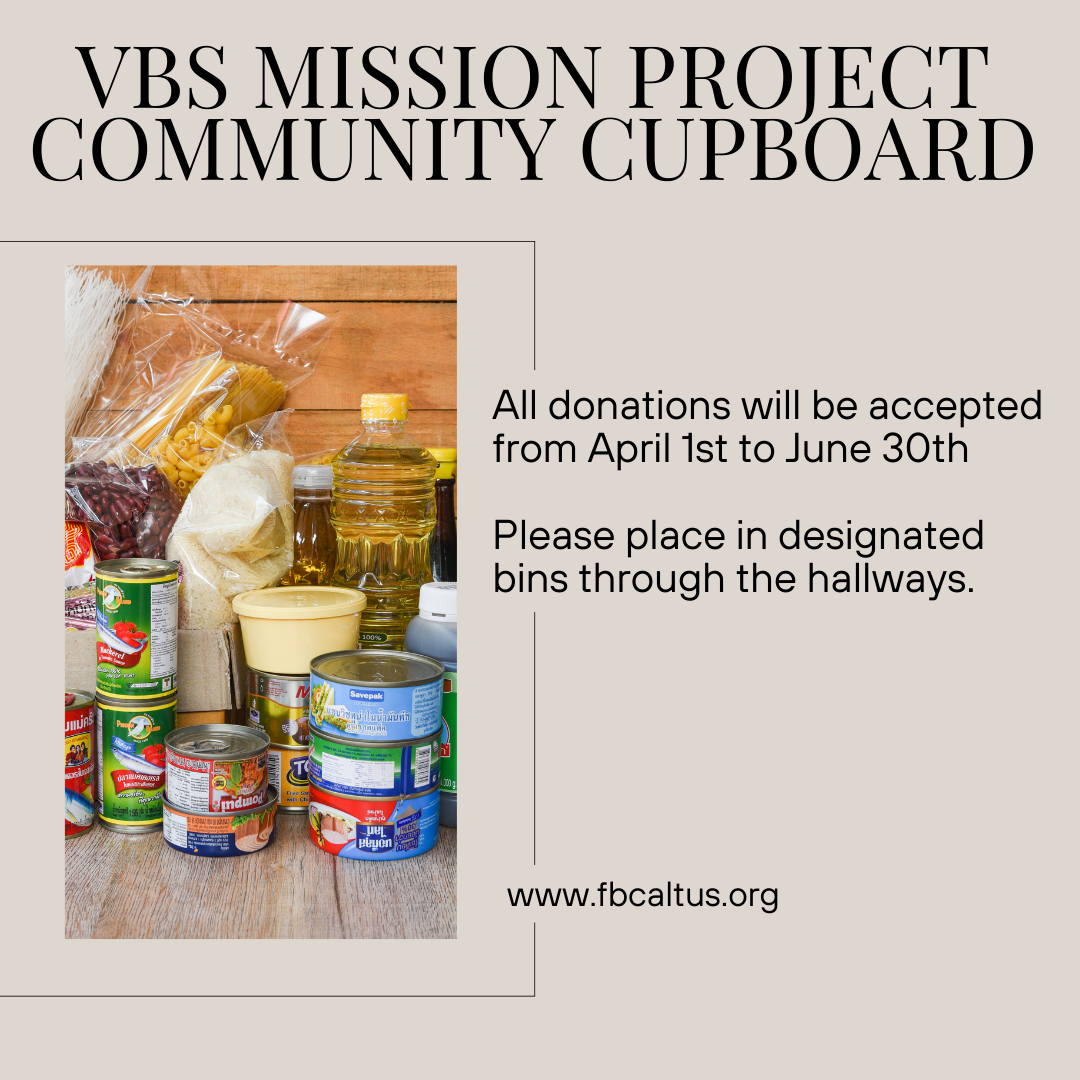 The Southwest Oklahoma Community Action Group Community Cupboard.
Suggested items to donate include:
Canned meat, canned soup, canned vegetables, canned fruit, ramen noodles, drioed beans and peas, rice, pasta, flour, sugar, cornmeal., canned & powdered milk, peanut butter, jellyt and jam, instant mashed potatoes, saltine crackers, hot and cold cereals, baby food, baby cereal, baby formula, disposable diapers, toilet tissue and hygiene items. Please drop off at designated boxes in the hallways or at The Preschool/Children's Ministry Office.
We will be accepting donations now through Friday, June 30th @ 9am. Please note that if you wish to donate any monetary gifts, they will be used to purchase these non-perishable food items.
Preteen Camp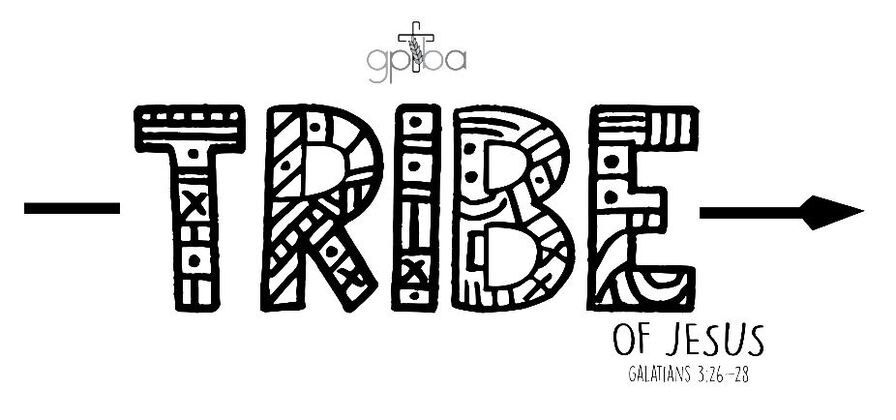 Pre-teen camp is June 5th - 8th for completed grades of 3rd to 6th. Cost will be $90. For more information or to pick up the packet, please see Joyce Russell at the Preschool/Children's Ministry Office.