Welcome to Student Ministries
All Things Falls Creek
Who: Students who have COMPLETED grades 7-12
When: July 25-30 [Monday-Load @ 1/Leave @ 1:30 | Saturday-Leave @10 | Arrive in Altus by 1
Where: Falls Creek Youth Camp in Davis, Oklahoma
Cost: $150 [family discounts, partial scholarships, and payment plans are all available]
Payments of cash and checks only
Checks can be made out to FBC Altus with student name and FC in the memo
FC Sign Ups are closed
Here is a list of other information options that can be picked up from the Youth House:
Parent Information
Dress Code
Recreation Options
Covid 19 Protocols
Theme Nights TBA
Summer Schedule
JUNE
1 Falls Creek Sign Up Party (6:30-8:30 @ YH)
9 ACA Gym (evening)
17 Neon Sprinkle Night
20-24 VBS/Boot Camp
21-28 Seattle Mission Trip (pray!)
28 Video Game Tournament
JULY
7-8 Camping Trip
11 Lock IN
16-20 OKC Mission Trip (pray!)
25-30 Falls Creek
31 Medical Release Forms Expire
Weekly Schedule
Sunday Morning
Every Sunday we gather for Sunday School where several of our adult leaders teach the Scriptures and their application to students. There are also two opportunities to join our church family for worship in the morning.
Sunday School: 9:40-10:30am
Worship: 8:30am and 10:50am
Sunday Nights
The Student Ministries will be meeting at the Youth House from 6:00-7:00pm for Bible Study. Students can hang-out after service at the Youth House until 9:00pm on Sunday nights.
Sunday Night Topic is defending your faith in the area of sexual purity - Mama Bear Apologetics: Guide to Sexuality by Hillary Morgan Ferrer
Wednesday Nights
Student Worship is simply a time for students to gather each week to worship with each other and hear teaching from the Bible and discuss the lesson in adult lead small groups. We have the Youth House open after worship until 9:30pm.
Student Worship: 7-8:15pm
Hang Time: 8:15-9/9:30pm
Jr. High Pick Up: 9:00pm
HS Pick Up: 9:30pm
June Study is AWAKEN by D.A. Horton
General Information
The Student Ministries of First Baptist Church Altus exist to empower parents to disciple their students to glorify God and further His kingdom on earth. We are committed to sharing the gospel, making disciples, cultivating community, and praying for one another. We use the following terms to help us fulfill this mission:
INVITE others to Christ and church.
WORSHIP together.
LEARN God's Word.
SERVE the church and the World.
For more information, please leave a message at 580.482.8070
Student Missions 2022
STUDENT MISSIONS 2022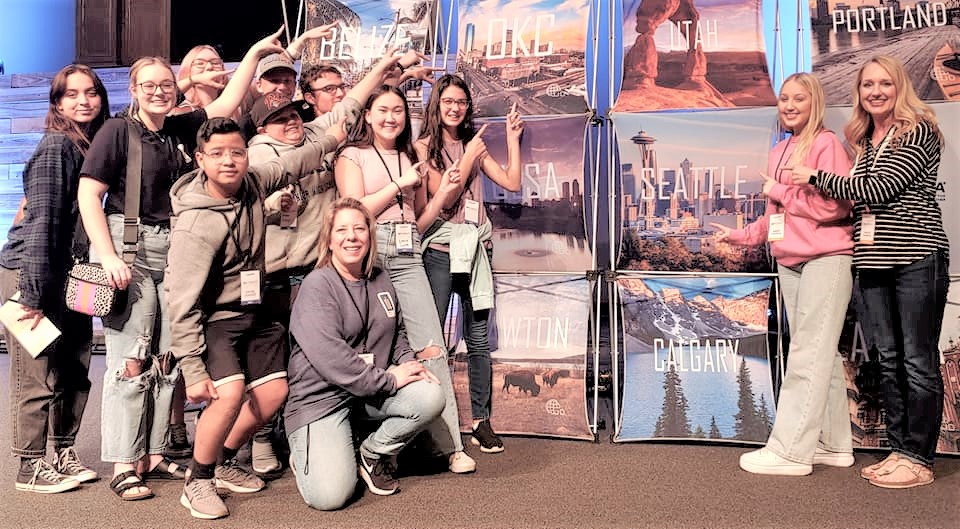 Seattle - June 21-28
Abbey and Angie
OKC - July 16-20
Haziel, Phebe, Bella, Alexis, Anna, Grace, Bryson, Byke, Lexie, Jonathan, Bob, Carson, Jayme