Women's Sunday School Classes
In our desire to cultivate community within our women, we have two Women's Sunday Fellowship Classes that are offered at 9:30am in Rooms 203 (Daughters of the King) & 250 (Forever Grace).
Monday Night Ladies Bible Study
"How Happiness Happens" By Max Lucado will be facilitated by Debbie McAskill beginning on January 9th at 6:30pm. The cost of the book will be $10. See Debbie for more information. The study meets every Monday Night in Room 113.
Tuesday Morning Ladies Bible Study
Click to watch: Promo Video
"Gospel on the Ground" with Kristi McLelland meets every Tuesdays on at 10am. This study meets every Tuesday Morning in Room 113. The cost of the book is $20.
In this 7-session study, Kristi unpacks the life of the early church in the book of Acts and shows us that the kingdom of God is always on the move, always looking outward to bring meaning and joy to a world searching for true fulfillment and hope. Explore the call of Jesus to His disciples then and to us today, see how God's Word can sustain us even in the most difficult of times, and embrace the transformative grace we experience as children of God in His kingdom of celebration.
Please join us on Tuesday mornings for some fellowship, conversations and great bible studies.
Please contact Becky Hamilton for more information.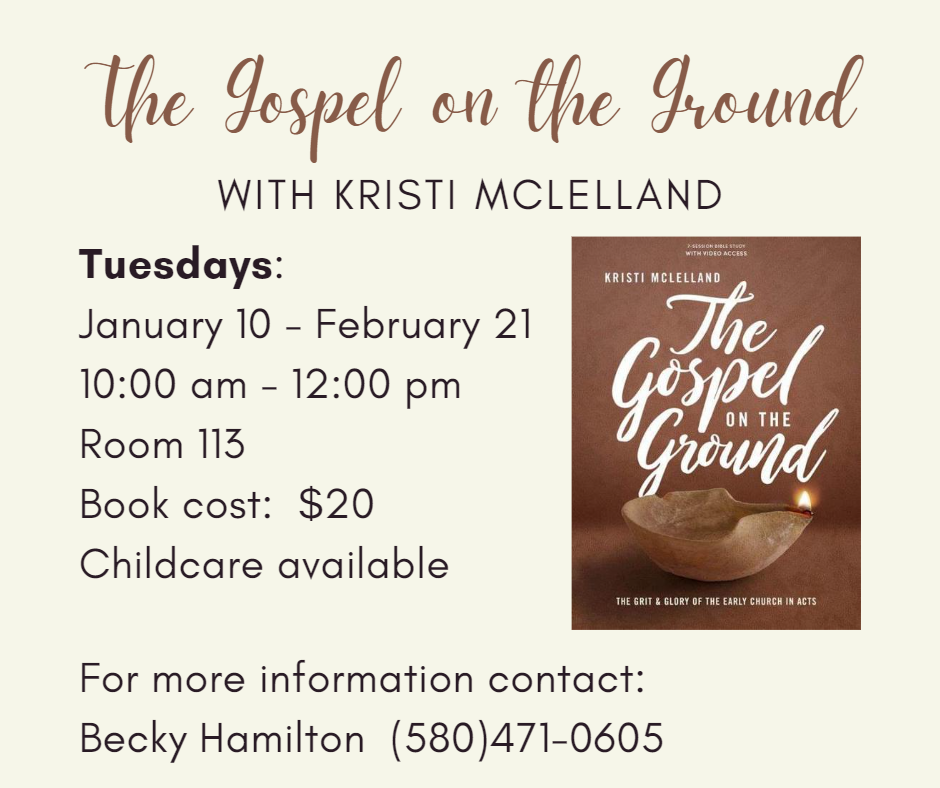 Holy Yoga
Holy Yoga is offered on Tuesday and Thursday mornings at 9:00am. Contact Emma Beasley for more information.
Women's Ministry
The Women's Ministry of First Baptist Church Altus exists to glorify God and further His Kingdom on earth. We live out this mission by:
Learning God's Word

and growing

together through Bible studies for women on varying days, times, and subjects as God leads.

Cultivating Community

by doing women's retreats and events (e.g. BGCO April Retreat, Proclaim Truth Conference, etc.).

Serving the church and the World

by partnering with local ministries and missions.

Equipping Women leaders

to do the work of the ministry.

Inviting others by communicating opportunities for women to grow and serve.
Have any questions? Please feel free to email us at [email protected]!